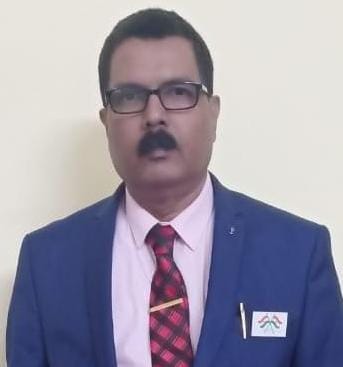 Prof. (Dr.) Babul Kumar Bezbaruah
MD (Pharmacology)
Prof. Babul Kumar Bezbaruah did his MBBS from Gauhati Medical College and MD (Pharmacology) from Gauhati Medical College, Guwahati, Assam. Prof Bezbaruah is trained in RIA technique in NIN Hyderabad and joined GMC, Guwahati as a Faculty in 1991. He is also trained in Rational Use of Drug (under DSPRUD, New Delhi) and Pharmacovigilance (at Mumbai).
Prof. Bezbaruah is academically and professionally highly accomplished with more than 32 years of experience in service, teaching, and research. Prof. Bezbaruah is a nationally renowned Pharmacologist with pioneering contributions in the challenging area of Pharmacology with special focus on Cardiovascular Pharmacology and Antimicrobials. Prof. Bezbaruah combines an exceptional mix of skills of a gifted teacher and educationist.
Prof. Bezbaruah has published more than 40 research papers in peer reviewed national and international journals (>520 Citations).
Prof. Bezbaruah is involved in Indian Pharmacological Society (IPS) and was Vice President of IPS. Prof. Bezbaruah is the life member of IPS and National Association of Pharmacology and Therapeutics. He was also a member of the Editorial board of IPS and is a reviewer of IJP and British Journal of Pharmacology. He was the organizing secretary of IPSCON 2014, Guwahati.
Other Key Achievements:
1. Recipient of Best Covid Warrior award by IMA, New Delhi.
2. Project Director of NIPER Guwahati for five years.
3. Medical Superintendent of Gauhati Medical College & Hospital in 2015-16.
4. Registrar of Srimanta Sankaradeva University of Health Sciences, Assam for two years (2016-18)
Prof. Bezbaruah was Principal cum Chief Superintendent of Silchar Medical College & Hospital, Assam (2018 October-2023 May) and he is known to be an excellent administrator and having good public relations in Barak Valley of Assam.
At present, he is working as Principal cum Chief Superintendent of Nalbari Medical College & Hospital (since May 2023).
Dr Bezbaruah has been nominated as the President of AIIMS Guwahati by the Gazette notification of Ministry of Health & Family Welfare (MoHFW), Govt. of India dated 11th August, 2023.